First tea from the world's highest tea plantation.
On Thursday, February 11, 2021, the first long-awaited tea came to Denmark from "our" tea plantation Bhakanje Tea Estate in Nepal. A day we have been waiting for for about 5 years.
Ever since we in 2016 joined the project to establish a tea plantation in one of Nepal's poorest areas together with the local population and two NGOs, (Himalayan Project and Human Practice Foundation), we have worked to create a high grown quality tea from now the world's highest located tea plantation, Bhakanje Tea Estate in Nepal.
Many thousands of tea plants were planted and in 2018 the first sod was cut for the factory building.
In 2019, the finished factory building was ready and hard work was done to create a reasonable road up to the area, which was otherwise only accessible via hiking trails. The electricity supply to the town was also very scarce, and the local power plant down by the river also had to be renovated. For now, the factory will have to make do with its own generator.
Project time line

Bhakanje Tea Estate course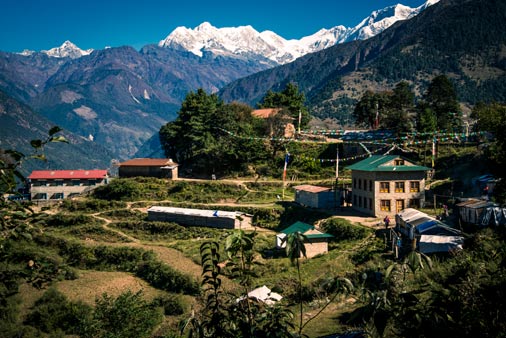 Through dialogue with Kurt Lomborg from the Himalayan Project and Pernille Kruse Madsen from the Human Practice Foundation, A.C. Perchs Thehandel is part of a collaboration in the Solo Khumbu region in Nepal. The goal is to create economic growth for one of Nepal's poorest areas, through self-cultivation and production of tea.
A.C. Perch is in Bhakanje to meet the local farmers and look at the area and assess the possibilities of producing tea.
"Teaday" is held, where all farmers present their tea leaves, as well as a small test selection of teas from the bushes at their disposal.
Quality and opportunities assess.
Building land is included and the project is discussed with the local farmers.
2017 - Planning Factory Building
Drawings and planning of construction work are completed. Road project improved and materials transported up to Bhakanje.
Finally, the first sod is cut for the factory and the road project is started. An excavator is brought from neighboring municipality.
2019 - Factory completion and inauguration
We are in Nepal to inaugurate the factory. Bhakanje Tea Estate is preparing to process the first green tea leaves, and the region is close to its first own tea production.
The farmers bring the first freshly picked tea leaves to the factory and the consultants teach the local population about tea production, including oxidation, drying processes and trading.
On February 11, A.C. Perchs Thehandel receives the first tea from Bhakanje. A soft and round Oolong tea with notes of honey and nut. The first highland tea from Bhakanje
is a reality.